About the Gateway Program
The Gateway Program will deliver critical rail infrastructure projects between Newark, New Jersey and Penn Station in New York City ("PSNY"), along the Northeast Corridor ("NEC"). The NEC is the most heavily used passenger rail line in the U.S., with more than 2,000 trains per day carrying approximately 800,000 daily passenger trips across eight states and Washington D.C.
It serves a region that is home to 17 percent of the U.S. population and 97 Fortune 500 company headquarters, and an area that contributes 20 percent of the national GDP. The NEC is a vital artery in the region and a critical element of the national transportation network, linking millions of people to good jobs, and connecting this region with the rest of the country.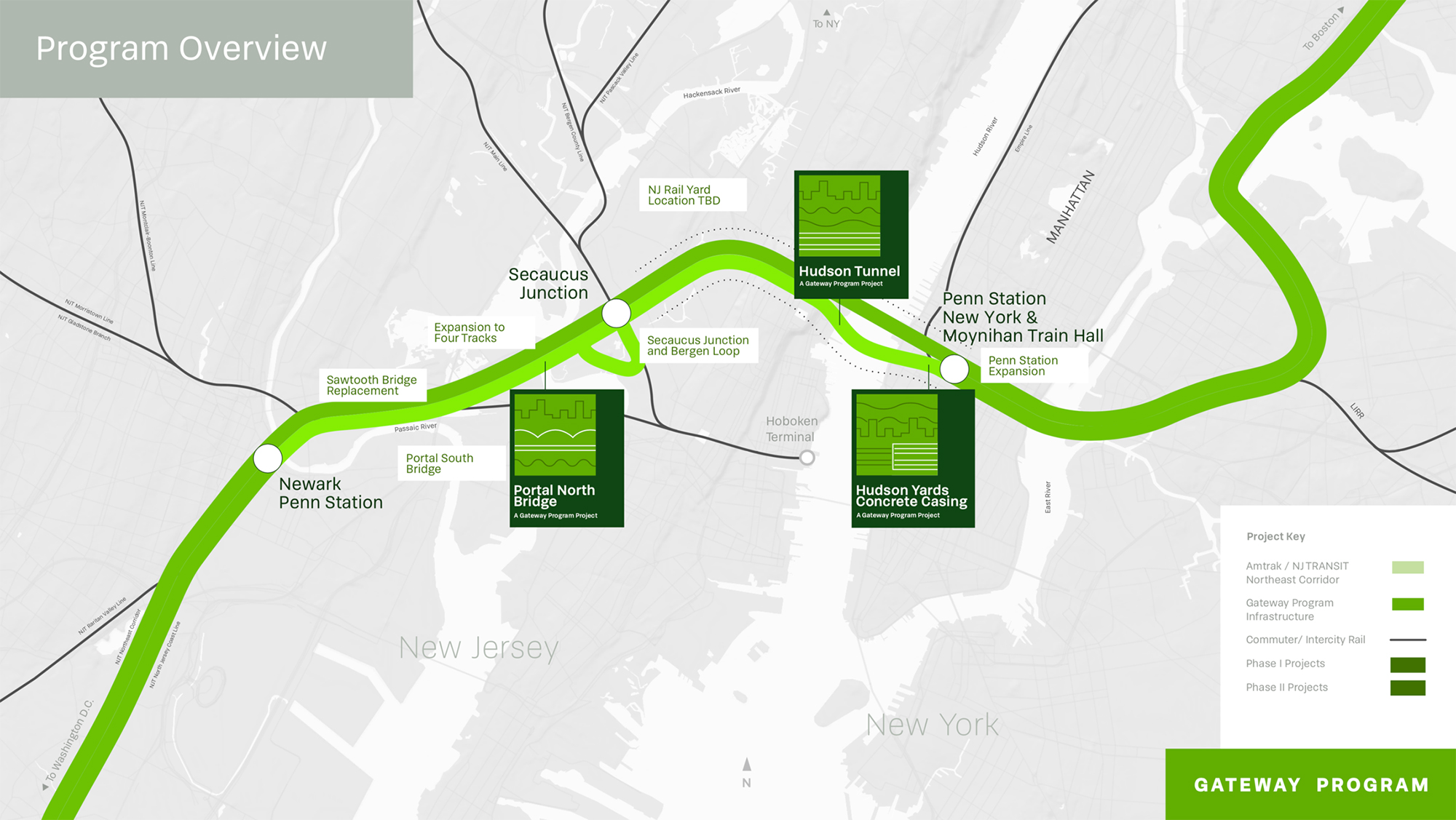 The Gateway Program focuses on a 10-mile segment of the NEC, and includes a program of projects that would replace and update rail infrastructure assets that, in many cases, are over 100 years old, as well as increase track, tunnel, bridge and station capacity. This segment of the NEC carries over 200,000 daily Amtrak and NJ TRANSIT passenger trips on approximately 450 trains.
The Gateway Program's first phase includes the construction of a new tunnel under the Hudson River, the rehabilitation of the existing tunnel, the completion of a concrete casing on the West Side of Manhattan to preserve right-of-way for the future tunnel to PSNY, and the replacement of the Portal Bridge.
Later phases of the Gateway Program would include the replacement of the Sawtooth Bridges on the NEC located between Newark Penn Station and Secaucus Junction, the expansion of PSNY in Manhattan, the expansion and modification of Secaucus Junction Station and addition of loop tracks ("Bergen/Secaucus Loop") in New Jersey, the construction of Portal South Bridge, and other elements to complete a modernized, four-track railroad from Newark Penn Station to PSNY.
About the Gateway Program Development Corporation
The Gateway Program Development Corporation (GDC), a New Jersey non-profit, was formed in November 2016 to oversee and deliver the Program. GDC works closely with stakeholders, including the United States Department of Transportation, Amtrak, NJ TRANSIT, and the Port Authority of New York and New Jersey, to advance this critical program.
This structure and the coordinated efforts from the Gateway Program's stakeholders build on a call to action in November 2015, by former U.S. Secretary of Transportation Anthony Foxx, New York Governor Andrew Cuomo and New Jersey Governor Chris Christie, U.S. Senators Charles E. Schumer, Robert Menendez and Cory Booker. At that time, a framework was announced for advancing the Gateway Program, including the formation of GDC.
The Gateway Program Development Corporation (GDC) was established to oversee and deliver the Gateway Program, with support from federal and local partner agencies.
Click here to contact GDC.